May is HERE, which means Summer is just around the corner! Warmer weather gives us more chances to Stellabrate® outside, and what better way to than a boozy brunch? Join us for the next Stellabration Education live show where host Nina Chantele from MYfm will walk you through how to elevate your next brunch with six delicious new wine and food pairings.
TUNE IN INFO: Go to Stella Rosa®'s YouTube channel @StellaRosaTV or Facebook @StellaRosaWines Thursday, May 20th at 4:00 pm PST.
To get started, we are offering the exclusive Stella Rosa® Brunch Pack that includes six wines plus six recipe cards. Shop online at SanAntonioWinery.com. Let's get cookin'!
1. Stella Rosa® Ruby Rosé Grapefruit & Brunch Board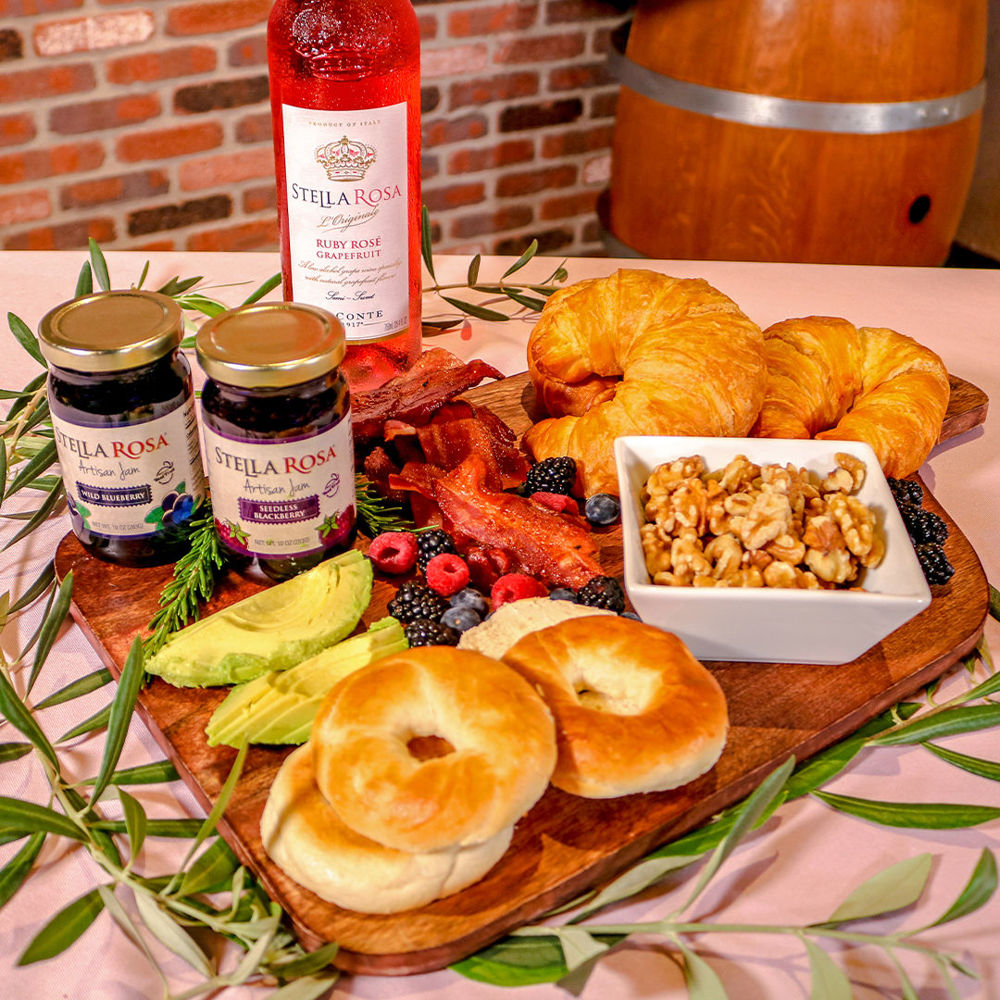 Ingredients:
Bagels
Various cream cheeses
Various jams/marmalades
Bacon
Avocado
Goat cheese
Croissants
Brioche toast
Various berries
Honey
Directions: 
    Assemble the board by giving every element it's own space.
Stella Rosa® Watermelon & Prosciutto and Asparagus Puffs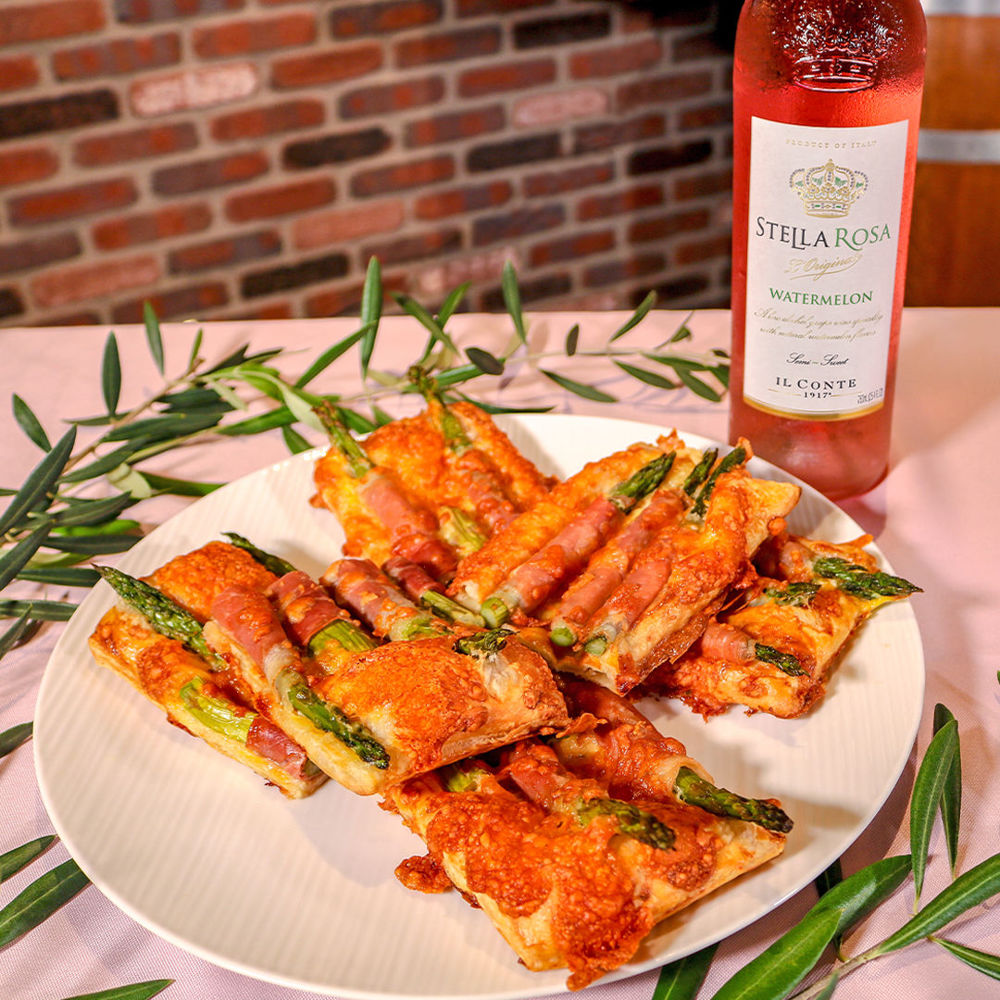 Ingredients:
1 bunch thin asparagus
1 tbsp. extra virgin olive oil
kosher salt
pepper
2 sheets frozen puff pastry, thawed
8 oz. shredded cheese
12 slices prosciutto
1 egg, beaten
Directions: 
    Preheat oven to 425°F
    Trim off ends of asparagus.
    Roll out the puff pastry on a lightly floured surface and make into a large rectangle, then cut into 6 squares.
    Toss asparagus in olive oil and season with salt and pepper.
    To assemble the bundles, place slice of prosciutto on top of the square and place 3-4 stalks of asparagus and 1-2 tbsp of cheese on top. 
    Lift two opposite corners of the puff pastry squares and wrap them around the asparagus and press to seal. Brush puff pastry with egg wash.
    Bake until puff pastry is golden and puffed, about 12-15 minutes.
Stella Rosa® Moscato Orange & Chilaquiles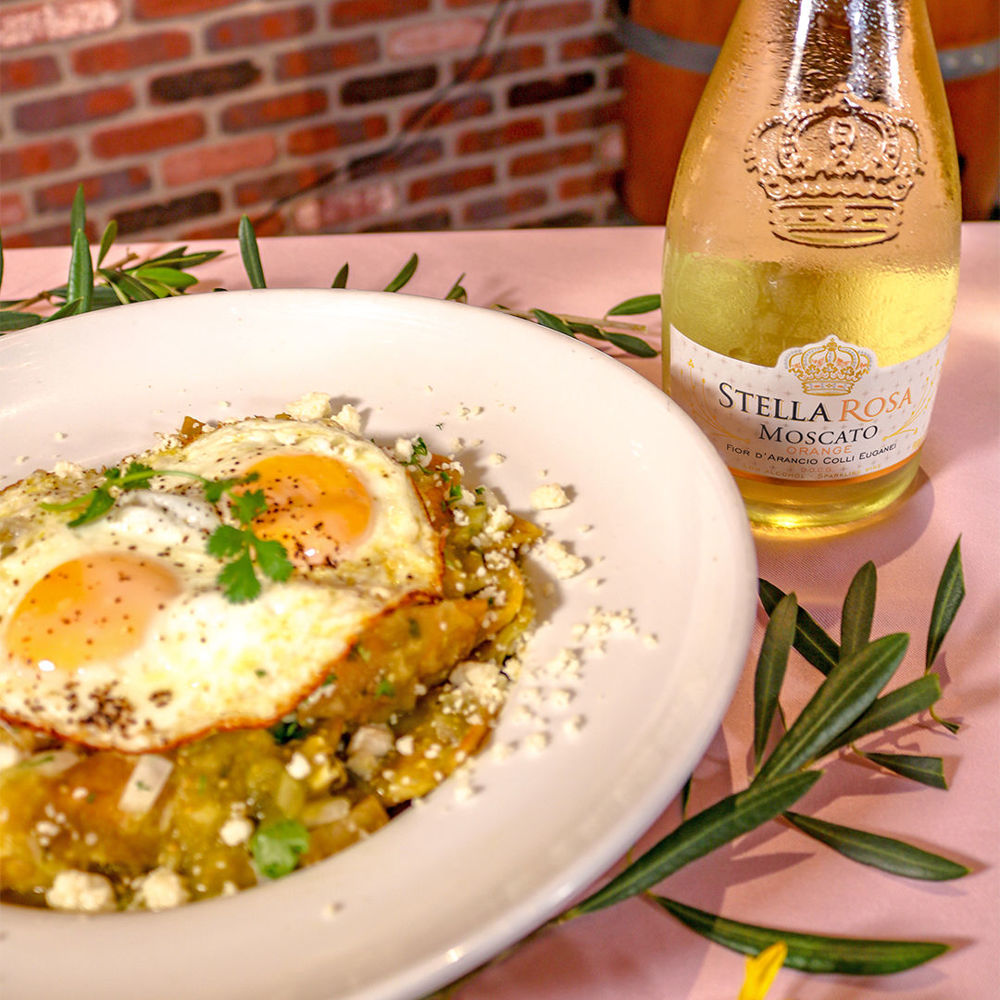 Salsa Verde Ingredients:
         2 tomatillos
         ½ onion
         2-3 cloves garlic
         2-3 serrano chiles (depending on how spicy you want it)
         1 tbsp. chicken base
         Salt and pepper to taste
         ½ cup chopped cilantro
         ½ cup diced onion
Chilaquiles Ingredients:
         8 cups tortilla chips (homemade or store bought)
         Salad verde
         Chicken (diced or pulled)
         Diced onion
         Chopped cilantro
         Queso fresco (crumbled)
         Top with over easy eggs
Salsa Verde Directions:
    Add tomatillos, ½ onion, garlic, serrano's, chicken base and salt and pepper to a pot, cover with water and bring to a steady boil.
    Simmer for 20-30 mins until tomatillos are soft and bursting.
    Strain the pot, reserving 2 cups of the liquid to add for consistency.
    Add ingredients to a blender and some of the liquid to blend.
    Add more liquid to get the consistency you like.
    Finally add the remaining ½ cup of cilantro and diced onion and blend lightly so you can see specks of cilantro and onion.
    Store and set aside.
Chilaquiles Directions:
      1.      In a large saucepan, add salsa verde and chicken and bring to a boil, once heated, toss the chips into the pan and coat completely.
      2.     Once fully coated you can set aside or serve immediately. Once ready to serve, top with chopped onion, cilantro, queso fresco and eggs of your choice, enjoy.
Stella Rosa® Prosecco & Lemon Lavender Scones
Ingredients:
2 cups all-purpose flour
1/4 cup granulated sugar
1 tsp. baking powder
1 tsp. baking soda
1/2 tsp. kosher salt
1/2 cup cold unsalted butter, sliced
2 large lemons, zest and juice, divided
2 tbsp. fresh lavender
1/4 cup milk
1 large egg, beaten
2 tbsp. melted butter, for brushing
Directions: 
    Preheat oven to 400°F. Line a baking sheet with parchment paper.
    In a large mixing bowl, whisk together the flour, sugar, baking powder, baking soda and salt.
    Add the cold butter to the flour mixture and cut it in with two knives until a crumbly mixture forms.
    Add the zest of both lemons to the mixing bowl. Stir gently to combine.
    Add 3 tbsp lemon juice, milk and egg. Stir with a spoon until mixture starts to come together until all flour is incorporated.
    Transfer dough onto a lightly floured surface and form into a circle just under 1-inch thick. Cut into 8 wedges and transfer them to the      prepared baking sheet. Brush the top of each scone with a little melted butter and sprinkle with a pinch of granulated sugar.
    Bake for 18-20 minutes, until the scones rise and start to turn golden brown. Remove from the oven and let cool.
    Serve with fresh cream or jam.
Stella Rosa® Berry & Chocolate Crepes
Ingredients:
2 cups milk
4 eggs
3 tbsp. butter (melted)
3 tbsp. sugar
1 tsp. vanilla
1/2 tsp. kosher salt
1 1/2 cups all-purpose flour
1/4 cup unsweetened cocoa powder
Directions:
    Sift flour into a bowl, then add all other ingredients and mix.
    In a small non-stick pan, add enough batter to swirl and thinly coat the pan.
    Cook until crepe is bubbling.
    Flip crepe and cook an additional 30-60 seconds, then from heat and let cool on a plate.
    Repeat with remaining batter.
    Fill however desired, we recommend whipped cream and fresh berries.
Stella Rosa® Moscato Rosé & Mini Red Velvet Pancakes
Pancake Ingredients:
1 cup all-purpose flour
1 tbsp. granulated sugar
2 tbsp. unsweetened cocoa powder
3 tsp. baking powder
½ tsp. salt
1 large egg
¾ cup milk
2 tbsp. vegetable oil
Red food coloring
Cream Cheese Icing Ingredients:
4 oz. cream cheese, softened
½ cup powdered sugar
3-4 tbsp milk
Cream Cheese Icing Directions:
In a medium bowl, beat cream cheese and powdered sugar.
Beat in milk a little at a time until desired consistency.
Pancake Directions:
In a large bowl, whisk together flour, sugar, cocoa powder, baking powder, and salt.
In a small mixing bowl, whisk together milk, egg, and oil.
Add wet ingredients to dry ingredients and mix. Add red food coloring until desired color and stir to combine.
Spray griddle with non-stick cooking spray.
Use a ¼ measuring cup to place batter onto the griddle.
Cook until edges are set and pancake starts to bubble on top. Flip and continue to cook the other side of the pancake for 2-3 minutes.
Top with cream cheese icing.
We hope you enjoyed these delicious pairings created by the talented chef Ray of San Antonio Winery.
If you recreate these delightful brunch recipes, don't forget to tag us on Instagram, Facebook, and Twitter!