Summer is officially here and there are a few things we won't be living without – going outside and getting some sun, spending time with friends, picnicking, and of course, drinking Stella Rosa wines. Today we are putting all these things together and sharing with you quick and easy ways to pack for the perfect summer picnic.
Refreshments –
Stella Rosa wines have an array of flavors that will give you plenty of options for you and your friends. Pack enough to share and enjoy them chilled. From Stella Pink to Moscato Orange to Stella Rosso, Stella Rosa has you covered in sweetness and delicious flavors. View our complete collection here.
Note: Stella Minis and Aluminums fit perfectly into a picnic basket and are great for outdoor entertainment!
Bites –
It's important to pack picnic foods that travel well and aren't too much fuss. Bite sized sandwiches, fresh fruit, easy green salads, cheese and charcuterie are tasty options.
Location –
Picnics are easy because you can have one practically anywhere. Think backyards, parks, beaches – all make great picnic spots. Just keep in mind to pack accordingly depending on the spot you select, i.e. some places don't allow glassware so going with our Aluminum bottles is best.
Gear –
You can't possibly have a picnic without a basket, well technically you can, but why would you want to? Make sure you pack light if you plan to hike to your destination spot. Pack enough blankets if you'll be sitting on the grass or if you get chilly. You'll also want to pack reusable/ disposable dishware and utensils; bring containers to store your food and for leftovers. Don't forget the music – make a playlist ahead of time and take portable speakers to enjoy your favorite tunes. Additional activities like card games, cornhole, football, volleyball etc. can also be a lot of fun.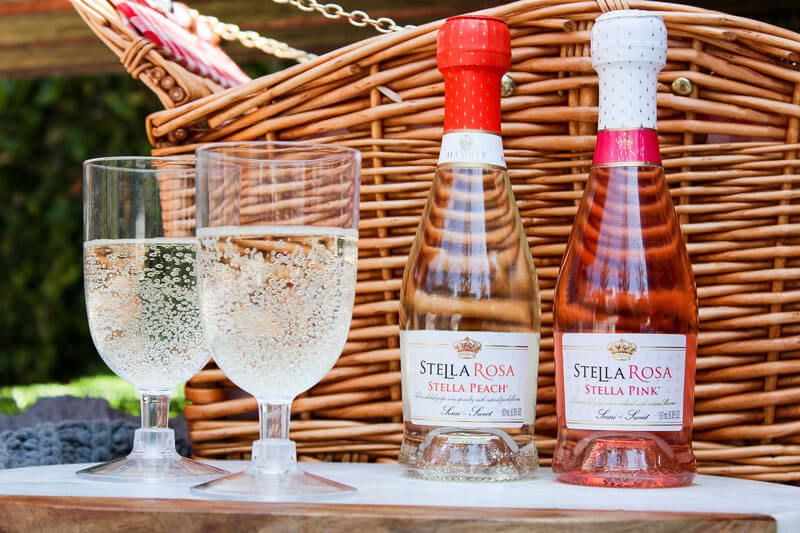 That's it! That's all you need to pack for the perfect outdoor picnic! Share your summer picnic essentials with us on Instagram, Facebook, and Twitter and use #StellaRosa for a chance to be featured!